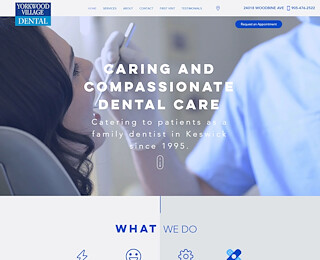 At Yorkwood Village Dental, we are committed to providing caring and compassionate dental care. Our qualified children dentists in Keswick work incredibly with your kids, infants, and toddlers. We are the ideal dentist to help your little ones improve the way they care for their teeth and gums.
What's more, our experienced dentists will show your kids dental hygiene demonstrations and pictorial diagrams. Through this, your kids will be able to take adequate care of their mouth - teeth, and gums. Our qualified team of childrens dentist in Keswick are guaranteed to help your kids perfect their dental cleaning skills.
What Do Children Dentist Do?
Children dentists are also known as pediatric dentists. And as the name implies, they are dedicated to the oral health of children from infancy through the teen years. Children dentists have the experience and qualifications to care for a child's teeth, gums, and mouth throughout the various stages of childhood.
Children's dentists are professionals in one of the nine fields of dental specialties. They provide a wide range of treatments, below are some of what a children's dentist can do:
Oral Health Education for Children and Parents: As mentioned earlier, these dentists work mostly with children, with new teeth, so they place an early emphasis on oral health education. This education does not only involve the children but also their parents, giving them oral health advice and ways to maintain proper oral health. They do this to ensure oral education is imbibed into the children which they can follow through different stages of their life
Infant Oral Health Exams and Preventive Treatment: It is known that children are prone to tooth decay because young children's teeth are difficult to clean. Pediatric dentists provide basic preventive services, such as teeth cleaning. They also provide dental sealants and fluoride treatments to prevent tooth decay. They also provide nutrition and diet recommendations
Restorative Treatment: Repair of tooth cavities or defects and all other dental injuries (for example, fractured, displaced, or knocked-out teeth, etc.
Correct Bad Habits: Children's dentists also help in habit counseling like pacifier use and thumb sucking.
How Often Should You Take Your Child To The Dentist?
It is essential to know that frequent visits are vital to the health of your child's developing teeth. It is widely expected to take your child for a first visit to the dentist for an oral exam as soon as his/her first tooth comes in, or by the first birthday.
Here the dentist will give you advice about how to care for your child's early teeth. But after this first visit, how often should you take your child in for another exam or treatment. Most dentists recommend a dental visit every six months to help prevent cavities and other problems.
Choose Us as Your Childrens Dentist in Keswick
At Yorkwood Village Dental, we believe in early detection and treatment of dental and oral disease. Parents and guardians can bring their kids into our dental office for regular cleaning, exam, and checkup. Our compassionate and caring staff members will welcome your kids with an inviting smile. We will make them feel comfortable throughout their period at our facility. We guarantee you quality and excellent dental services.
Childrens Dentist Keswick
Yorkwood Village Dental
9054762522
24018 Woodbine Avenue, Keswick, ON L4P 3E9
View Larger Map