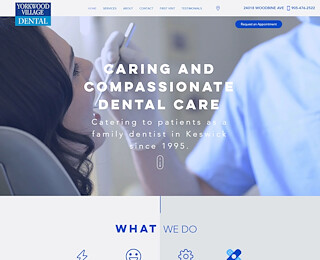 More than half a million new patients opt for dental implants each year, making them one of the most popular restorative treatments performed by dentists. If you're comparing options for replacing teeth, consider the benefits of dental implants in Keswick at Yorkwood Village Dental and come in to see us with your questions. If you wear dentures and are less-than-satisfied with their comfort, appearance, or functionality, implants offer advantages no other dental prosthetic provides.
Am I a Candidate For Dental Implants?
If you answer 'yes' to any of the following questions, it's time to schedule a free meet & greet with our staff at Yorkwood Village Dental to discuss implant treatment:
Do you experience slipping of dentures during the day?
Do your dentures hurt when eating?
Are you restricted on the type of foods you can eat?
Are you considering a more permanent solution?
Does cost factor in to treatment?
Do you worry that others are looking at your teeth when you smile?
Implants offer superior comfort, fit, and function; in fact, advanced dental implants look, feel, and perform like natural teeth, so that within a few days of placement, you'll think of them as your own. Whether you're interested in replacing a single missing tooth or a full arc of teeth, you'll find implants offer exceptional value.
Are Dental Implants Expensive?
Expect to pay more for dental implants in Keswick compared with dentures or bridgework since they're made to last a lifetime. Implants' durability and quality quickly offset the higher cost. Consider the fact that implants never need adjustments or replacing, and you'll begin to see why so many patients choose implants each year to restore their smile. If you're like a lot of patients at Yorkwood Village Dental, you probably have many questions about implants- we'd love to answer them and provide additional information when you come in for a consultation appointment in our convenient location.
Lifetime Dental Implants in Keswick
Imagine regaining the confidence lost through tooth loss and not having to deal with the issues typically associated with dentures, like slipping, clicking, using gooey paste to keep them in place, and other problems unique to wearing dentures. At Yorkwood Village Dental, we offer patients freedom from dentures with permanently implanted artificial teeth that look identical to natural teeth. Implants also protect facial bone and healthy teeth- an added benefit no other prosthetic provides.
Call YVD Today
What's keeping you from making an appointment? Your best smiles are still ahead with beautiful dental implants that will restore your confidence in social situations and give you more reasons to smile. Come in for a free implant consultation to discuss the costs of treatment and additional details regarding the implant procedure. Our goals at Yorkwood Village Dental are the same as yours- treatment that helps you achieve your goals while fitting within your budget. Feel free to browse our 'Services' page for more information about replacing missing teeth with implants.
Dental Implants Keswick
Yorkwood Village Dental
9054762522
24018 Woodbine Avenue, Keswick, ON L4P 3E9
View Larger Map