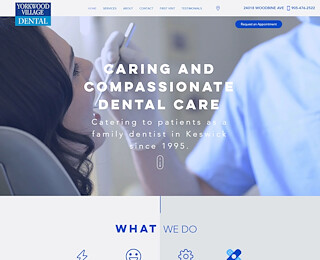 You're looking for a dentist in Keswick who can offer your family a positive experience in the dentist chair- rest easy knowing our team from Yorkwood Village Dental provides caring and compassionate dental care. We think we're the best choice for anyone searching for a conveniently located practice offering new technology dentistry to patients of all ages. See our list of services and treatments on the YVD website or call us to set up a new-patient appointment to get to know us better.
What Should I Look For In a New Dentist?
Dental experts recommend choosing a new dentist for your family based on the following criteria:
Wide range of treatment options
Accessible location
Level of experience and expertise
Single office treatments
Affordable rates
Ability to accept your insurance plan
Flexible appointment times
New technology equipment
Emergency dental offered
Yorkwood Village Dental is your family's home for a long list of restorative, cosmetic, and preventive treatments, including all of the following:
CEREC same-day restorations
Pro-grade teeth whitening
Tooth-colored fillings, crowns, & bridgework
Implants & dentures
Sealants, & fluoride
Endodontics
Orthodontics
And more!
How Often Should I See My Dentist?
Yorkwood Village Dental recommends twice-annual office visits for examinations and cleanings, sometimes more frequent, depending on results from your checkup. Keep your family's smiles their brightest and healthiest by coming in to see us as indicated by our staff to experience positive checkups and avoid more costly dental care. You'll find routine visits pay off down the road by reducing the likelihood that you'll need fillings, root canals, and restorative treatment.
Affordable Dentist in Keswick
We want each patient at Yorkwood Village Dental to enjoy access to quality dental care at the best rates in town, which is why we work with most insurance plans to lower the cost of treatment. Verify your benefits by phone or in-person when you come in for your first appointment- we'll help you file your insurance claim, as well. The #1 way you can avoid expensive dentistry by making sure your family members make their regular appointment times and follow the advice of our staff.
What to Expect at YVD
As a new patient, you naturally have many questions you'd like answered by our team; you'll find many of them already answered on our website under the heading 'First Visit'. Read our notes about Reception, Dental FAQS, Preventive Cleanings, Previsit Tours, Checkups, New Technology, and other popular topics, or go to the 'Services' section to browse the Library of Articles for information on the newest procedures available at Yorkwood Village Dental.
Rest Easy knowing you're in the best possible hands, whether seeing us for a regular office visit or specialized dental work. Your family matters to our staff; in fact, we'll treat you like family as a patient in our practice. If you're currently seeking a new dentist in Keswick, you'll find us on the cutting edge of advanced dentistry, able to provide a high-quality experience at an affordable price.
Dentist Keswick
Yorkwood Village Dental
9054762522
24018 Woodbine Avenue, Keswick, ON L4P 3E9
View Larger Map