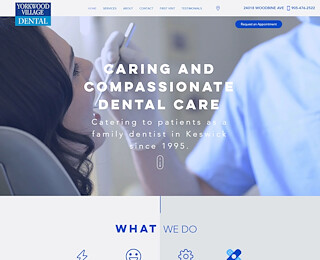 At Yorkwood Village Dental, we are dedicated to providing caring and compassionate dental services. For several years, we have been recognized to provide friendly and relaxed dental care experience for individuals and families in Keswick, ON, and surrounding communities. We provide a wide range of dental procedures and services. These include Teeth Whitening, Sleep Apnea Treatment, Root Canal Treatment, Dental Cleanings, and more.
In addition, we perform restorative dental procedures such as Bonding & Veneers, Composite Fillings, Implants & Dentures, and so forth. Whenever you are in search of a reputable dentist near me for your dental cleaning or restorative procedures, Yorkwood Village Dental is the ideal dental office to turn to.
How Do I Find The Best Dentist Near Me?
Did you recently move to a new town or a new area?  Or it's been a long time since you visited a dentist. You may be wondering about how you will get the best dentist around you. Your dental health is a vital part of your overall health, so you are searching for more than someone to just clean your teeth. Here are some tips that can help you in finding the best dentist near you:
Ask Friends, Family or Neighbors: To know which of the dentists the best is, you need to ask those that have visited dentists recently. An excellent place to start is with a dentist that's recommended by a family member or friend. They have had the experience of it, and they will be honest with their recommendations.
Ask Other Specialists For Referrals: You can ask your doctor, physician about the dentists in the area. They're all in the same medical community. Hence, ask which trusted dentist they know personally and could recommend for you and your family.
Use the Internet: We live in a world of the internet where a lot of information is literally available at your fingertips. It is essential to do research on the potential dentists that you are considering. Visit their website to know more about them, check their past works, reviews, testimonies, and complaints, feedbacks. All these will guide you in making the right decision.
Check for Credentials: Take some time to review the dentist's history. Where did he or she go to school? Or does the dentist continue their education?. Also check if the dentist belongs to credible associations such as the American Dental Association, and others. This will show you the dentist is on top of his/her game.
How Much Does Routine Dental Cleaning Cost? 
The cost of routine dental cleaning is not always definite. The cost varies, as a lot of factors contribute to this cost. Factors such as the condition of your teeth or the severity of the teeth damage. Some other factors are:
The extent of the area to be cleaned
Is it with insurance or not?
The dentist or the clinic
Filling materials.
Schedule An Appointment Today!
Turn to us today at Yorkwood Village Dental if you need a reliable "dentist near me." We provide caring, compassionate, and well-detailed dental care services. Our qualified dentists will be available to speak with you and discuss your dental needs. We serve both young and adult patients in Keswick, ON, and nearby cities. An amazing experience awaits you.
Yorkwood Village Dental
9054762522
24018 Woodbine Avenue, Keswick, ON L4P 3E9
View Larger Map