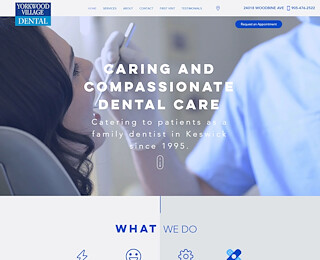 Discover the many advantages of dentures in Keswick when you visit us at Yorkwood Village Dental. Whether you're exploring options for replacing missing teeth or are looking for a dental clinic that can repair or adjust existing dentures, you'll find we can meet all of your needs. Affordable dentures restore your smile and help you regain lost confidence, so you'll smile more easily in social situations. Best of all, modern dentures are incredibly durable, so you'll experience a high return from your investment.
What Are the Benefits of Dentures?
Dentures do more than just replace missing teeth- they're also essential protection from jawbone loss and for preserving facial features. While you have numerous options available when choosing a dental prosthetic, dentures offer all of the following benefits:
Exceptional affordability
Restore function after loss of teeth
Allow you to enjoy your favorite foods
Improve speech
Provide confidence when smiling
Last up to ten years before requiring replacement
Offer convenience
Non-permanent restoration
Will People Notice That I'm Wearing Dentures?
Rest easy knowing modern dentures offer patients a discreet treatment that ensures others around you will not suspect you're wearing a dental prosthetic. While friends and family may comment on your beautiful new smile, your secret remains safe with you. Advanced materials and manufacturing create durable dental prosthetics that mimic the appearance of natural teeth. At Yorkwood Village Dental, we'll help you select the shade and shape of your denture's teeth, for a custom experience. Find out more about the process when you schedule a denture consultation with our staff.
Stop Hiding Your Smile
If you're reluctant to accept a social invitation due to the appearance of your smile, you'll find affordable dentures in Keswick provide the solution. We'll work closely with you throughout treatment to deliver a guaranteed comfortable fit. Find out if your dental insurance covers treatment by calling our office with your plan's details; we'll do everything possible to help you get the most out of your coverage for a lower out-of-pocket expense. Can you think of a single reason not to check into beautiful new dentures to restore your smile?
Get a Great Fit
Ill-fitting dentures are uncomfortable to wear and create a host of problems over time. Make sure your dentures fit well with timely adjustments in our office at Yorkwood Village Dental. It surprises many denture wearers to discover cracks or damage to their dentures they didn't know existed until a dentist examines them. If you're not completely satisfied with your existing dentures, come in to see our staff for an examination or adjustment and leave smiling.
Beautiful New Dentures in Keswick
Compare modern dentures with implants and bridgework to see why so many patients opt for removable dentures at Yorkwood Village Dental. Dentures not only fit your budget, but they're also an excellent way to enhance your smile without irreversible surgery. Browse our Library of Articles section on the Yorkwood Village Dental website for information, resources, and news about new technology dentistry.
Dentures Keswick
Yorkwood Village Dental
9054762522
24018 Woodbine Avenue, Keswick, ON L4P 3E9
View Larger Map