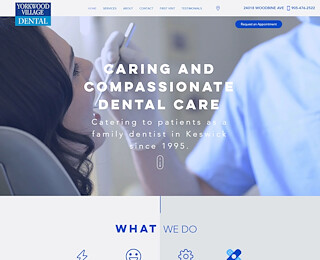 Having strong teeth and healthy gums is vital to our overall health. At Yorkwood Village Dental, our aim is to help you and every member of your household achieve an outstanding level of oral health. We are your reliable family dentist in Keswick, ON, that specializes in providing compassionate and caring family-oriented dental services.
In addition, we work with a competent team of compassionate, qualified, board-certified dental experts. All our dentists possess several years of experience and comprehensive knowledge about providing dental care for kids, adults, and seniors. Whenever you need a trusted family dentist in Keswick, ON, to help with your routine cleanings, dental exams, and other dental procedures, always turn to Yorkwood Village Dental. We guarantee you quality and excellent dental services that give 100% patient satisfaction.
What Is Family Dentistry?
Family dentistry is intended to help you address all your oral health needs "the general, preventive, and comprehensive treatment for all ages." Family dentists have at least some training related to working with children. They are also well-informed with providing dental procedures for adults and seniors.
What's more, family dentistry ensures everyone in your family has the opportunity of seeing the same dentist at every stage of their life. Which obviously can help you feel more comfortable during your exams and treatments. Family dentistry can take care of all your family dental problem such as cleanings, fillings, gum disease treatment, fluoride treatment.
What Are The Benefits Of Having A Family Dentist?
Some of the benefits of having a family dentist include:
Convenience: With a family dentist, you can find all the dental services your family need under one roof.  You won't have to drive to different dental clinics just to provide all of your family members with regular and thorough dental care.
They Are Updated With The History Of Your Dental Health: A family dentist is equipped with all the records of your dental health. Since he has been seeing and attending to your dental needs for a while, he's in the best position to know all these needs - your allergies, your fears, or requirements. He's able to monitor your teeth and any problems that may arise from time to time.
Detection Of Problems Early: Many dental issues don't cause symptoms. But with a family dentist, regular check-ups detect silent issues sooner rather than later. For example, changes in your teeth, gums, or any sudden discoloration or lesion will be readily apparent to your dentist.
Oral Education: A family dentist is in the best position to give you oral education and advice that you need, especially for your children. They will educate you and your family about daily oral care; the right toothpaste, diets, and other things that you need to know to maintain healthy oral hygiene.
Less Dental Fear And Anxiety For Kids: Young children are known to be a little overwhelmed when visiting dental offices. But seeing the same family dentist can help them overcome their fears, making them comfortable and dental visits easier.
Need Trusted Family Dentist in Keswick, ON? Contact Us Today!
Contact us today to know more about our dental services and procedures. Our trusted dental experts will be available to speak with you and discuss the dental options available to you. An amazing experience awaits you.
Family Dentist Keswick
Yorkwood Village Dental
9054762522
24018 Woodbine Avenue, Keswick, ON L4P 3E9
View Larger Map