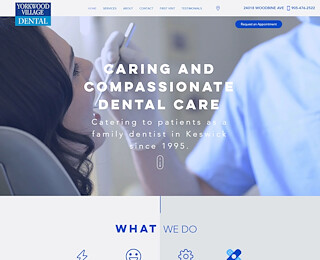 Check out the many advantages of Invisalign in Keswick at Yorkwood Village Dental when you come in to see us for a smile consultation- we'd love to answer your orthodontic questions and help you choose the best way to improve your smile. If you're a candidate for Invisalign braces, you'll see beautiful results in 6-18 months, depending on your dental needs. Virtually invisible Invisalign offers the following benefits:
No railroad track appearance- most people won't even know you're having your teeth straightened unless you tell them.
Superior comfort, compared to conventional braces; smooth plastic aligners replace metal wires and brackets.
Zero-irritation treatment with no wires to poke skin or damage soft tissue
Shorter treatment duration and office visits
No surprises while wearing Invisalign- you'll see a computerized image of results before treatment starts.
Removable aligners offer greater freedom throughout the day.
Addresses many of the same issues as conventional metal braces
No dietary restrictions- eat the foods you love.
Can I Afford Invisalign Braces?
The costs of Invisalign treatment are comparable with traditional orthodontic options, so you'll know what to expect right from the start. At Yorkwood Village Dental, we make it possible for patients to start treatment immediately without high upfront costs or investments. Feel free to ask us about a monthly payment plan to pay for Invisalign when you come in to speak with us. We want Invisalign payments to fit your budget so that treatment will not be a financial burden to your family. Call us to set up a consult regarding Invisalign in Keswick to find out more about treatment.
Comfortable Invisalign in Keswick
Patients of all ages request Invisalign clear braces more than 2:1 over metal band & wire braces. If you're worried about the commitment of wearing braces for many months to come, rest easy knowing Invisalign's removable aligners offer respite for up to two full hours each day. Take Invisalign aligners out to brush, floss, eat, spend time with friends, or take a break from treatment whenever you wish; Invisalign even offers options for parents of teens to ensure treatment is on target.
Verify Your Insurance
Find out if your dental insurance covers Invisalign treatment when you call Yorkwood Village Dental or come in for a courtesy consultation. Our front desk staff will be happy to look over your coverage and help you determine what your policy will pay for and what out-of-pocket costs remain. Bottom line- you'll find Invisalign at Keswick's YVD an excellent investment, and one that will pay for itself many times over in terms of a lifetime of beautiful smiles.
Don't wait- if you qualify for Invisalign treatment, your new smile is just months away when you opt for clear orthodontic treatment with discreet profiling. We're confident you'll look back on treatment as the best money you've ever spent on dental care. Call us today to set up an initial visit to see your new smile through computerized imaging.
Invisalign Keswick
Yorkwood Village Dental
9054762522
24018 Woodbine Avenue, Keswick, ON L4P 3E9
View Larger Map