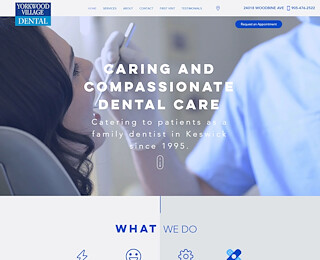 See our team from Yorkwood Village Dental for sports guards in Keswick for teens and adults. We'll help you protect your family's beautiful teeth with a comfortably-fitting, custom-made sports guard that significantly reduces the risk of dental injury during sports activity. We highly recommend a sports guard for the following sports:
Football & Rugby
Basketball & Softball
Baseball
Track & Field
Ice & Field Hockey
Racquetball & Tennis
Pole Vaulting
And many other contact sports
Does My Child Need a Sports Guard?
Unless your child participates in competitive swimming, the short answer is yes. Injury to teeth and soft tissue occurs during contact with equipment, other players, the ground, and other obstacles. Consider the fact that the American Dental Association estimates more than 200,000 dental injuries prevented annually through the use of quality dental appliances, like the ones made at Yorkwood Village Dental. Choosing a comfortable mouth-piece will ensure your child or teen wears them every time they participate in sports.
What is the Best Type of Sports Guard?
You have several options when comparing sports guards in Keswick: stock, boil & bite, and professional custom-made guards. You'll rightly guess that the guards made by dentists offer the most protection and comfort, which is why we highly recommend seeing us if you have questions or wish to discuss dental protection with a guard. Trying to save a few dollars with a store-bought mouth guard increases the risk of injury- and the costs of restoring a broken or cracked tooth can quickly add up. Although you'll pay a bit more for a quality guard from Yorkwood Village Dental, you'll have peace of mind during the sports season.
What Are the Benefits of Wearing a Sports Guard?
Impact during sports activity can come in many different forms- even a fall to the ground can result in a severe tooth or soft tissue injury. Sports mouth guards act as a buffer between teeth & gums and all elements outside of the mouth. For teens and adults with braces, guards are a must, even for sports with no risk of tooth injury. You'll find a wealth of information available on the Yorkwood Village Dental website when you click the 'Services' link and scroll down to our Library of Articles. Feel free to contact our staff when you're ready to schedule a consultation appointment.
If you've ever paid for restorative dental care, you know the value of preventing an injury. Sports guards in Keswick at YVD provide an affordable way to protect your finances. Sports experts tell us an athlete is 60 times more likely to incur an injury without the protection of a guard, with custom-fitting mouth guards providing the maximum amount of protection during activity. Consider the costs of an injury compared with the affordability of sports mouth guards at Yorkwood Village Dental and come in to see us before the next season starts- your child or teenager will thank you in the years to come.
Sports Guards Keswick
Yorkwood Village Dental
9054762522
24018 Woodbine Avenue, Keswick, ON L4P 3E9
View Larger Map