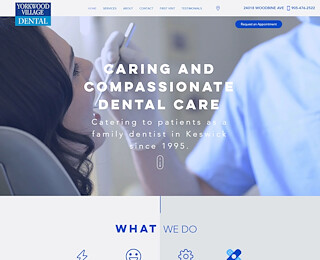 Sports guards are worn to provide adequate protection for the teeth and gums during sporting activities. For your quality sports guards in Keswick, ON, Yorkwood Village Dental is the ideal place to turn to. We provide quality sport and mouth guards for young and adult sportsmen and athletes. With this, you will be able to prevent injuries to your teeth and gums during the sporting activity. We provide quality sport guards for young and adult sportsmen in Keswick and the entire Ontario area.
Why Are Mouth Guards Important?
Mouthguards are the soft plastic or laminate devices used in sports to prevent oral injuries to the teeth, cheeks, mouth, tongue, and jaw. We can't avoid a collision in sports; it is bound to happen. When it happens, mouth guards are your only defence against losing one or two of your teeth or oral injuries in general. 
Mouthguards are so important that without them, there's a huge risk of being involved in dental injuries. These include chipped or broken teeth, lip injuries, fractured crowns or bridgework, cheek injuries, root damage to the teeth, concussions, and fractured jaws. Thus, it is vital to use sports guards in collision sports such as football, hockey, boxing, basketball, wrestling, soccer, and more, where the risk of oral injuries are likely to occur.
Why Do Athletes Wear Mouth Guards?
Athletes (both young and adult) that participate in sports, and do not want a blow to the chin or concussion will most likely use mouth guards. Mouth guards are a significant piece of equipment in sports. Athletes can be at risk if they do not wear guards.
Mouth guards protect them from several oral injuries; it protects the soft tissue of the mouth, tongue, lips, and reduce the risk of breaking teeth during sports activities. It also protects them from blows to the face and head.
Statistics have shown the importance of them. According to the American Dental Association (ADA), more than 200,000 oral injuries are prevented each year by wearing a mouth guard. This shows how mouth guard is such an essential piece for an athlete while playing a sport.
Can Mouth Guards Damage Teeth?
Though, mouth guards have been known to avert oral injuries and cut the risk of concussion by 50 percent. It is essential to know is that mouth guards can also damage the teeth. They do not only damage the teeth but can also affect our general health. 
Recent studies have shown that mouth guards harbor large numbers of bacteria, yeasts, and molds that can affect us. They can lead to life or health-threatening diseases. However, proper cleaning and regular maintenance can prevent them from damaging the teeth.
Contact Us Today!
For more information about our sports guards in Keswick, ON, contact us today at Yorkwood Village Dental. Our services are affordable, prompt, and detailed. Our trusted dentists will available to speak with you and recommend the best sport guards for you. Depending on your budget and needs, we can provide you with customized sport guard solutions. Our sport guards are guaranteed to give your teeth and gums maximum protection during sporting activities.
Sports Guards Keswick
Yorkwood Village Dental
+1 905-476-2522
24018 Woodbine Avenue, Georgina, ON L4P 3E9
View Larger Map