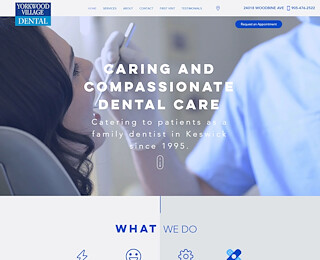 Enhance the appearance of your teeth with pro-grade teeth whitening in Keswick at Yorkwood Village Dental. Our treatment offers multiple advantages over store-bought whitening gels and pastes and is much safer for your teeth, as well. Book a consultation appointment with our team to discuss whitening as the most cost-effective way to see beautiful results that last a long time. Whitening boosts confidence and creates a more youthful-looking smile.
Is It Safe to Whiten?
While OTC products that whiten teeth come with a risk to the tooth's enamel, professional whitening treatment from your dentist remains a safe & effective way to go from dull to dazzling. If you're concerned about stains left behind from foods, beverages, tobacco use, or medications, we'd love to help you look at options for improving the appearance of your teeth when you come in to see us at Yorkwood Village Dental. Don't hide your smile- show it off and brighten up your little corner of the world with affordable teeth whitening in Keswick at YVD.
Should I Whiten at Home or In-Office?
Yorkwood Village Dental is pleased to offer both options to better suit your busy lifestyle- whichever treatment you choose, rest easy knowing you'll love the results. Whiten at home and wake up to a beautiful new smile or come in to see us for professional treatment and leave our office in about an hour-and-a-half with the smile of your dreams; with either choice, you'll see years of stains disappear, and a new luster take their place.
New Zoom! Whitening Technology
Zoom! Gives our patients at Yorkwood Village Dental the added advantage of light technology to choose a custom shade of white and see immediate results with a single treatment. Rather than scheduling multiple visits to the dentist or treating teeth night after night, patients opting for Zoom! see a remarkable improvement in just 90 minutes. Consider whitening for any of the following occasions:
Career advancements, such as an interview or promotion opportunity
Upcoming wedding day photo shoot
Class reunion
First date or a special night out
Prom pictures
Anytime you want to make a great first impression
Quality Teeth Whitening in Keswick
As you consider treatment to improve the appearance of your smile, your goals become ours, as well, at Yorkwood Village Dental. We think it a privilege to meet with every patient before treatment to discuss treatment options and make recommendations that lead to healthier, more beautiful smiles with safe, effective treatments, like whitening.
Maximize your investment with a pro-grade treatment designed to last for six months or more. Prolong the duration of your new smile by avoiding food and drinks that cause staining, abstaining from nicotine products, and brushing with a toothpaste recommended by our staff at Yorkwood Village Dental. You'll find additional information on our website when you visit our 'Services' page and click on the 'Teeth Whitening' Keswick heading, or by reaching out to us with your questions about whitening.
Teeth Whitening Keswick
Yorkwood Village Dental
9054762522
24018 Woodbine Avenue, Keswick, ON L4P 3E9
View Larger Map